Royal Ascot: Golden Horde wins Commonwealth Cup after Frankie Dettori reaches 70 winners
On June 19, 2020
In General
No Comments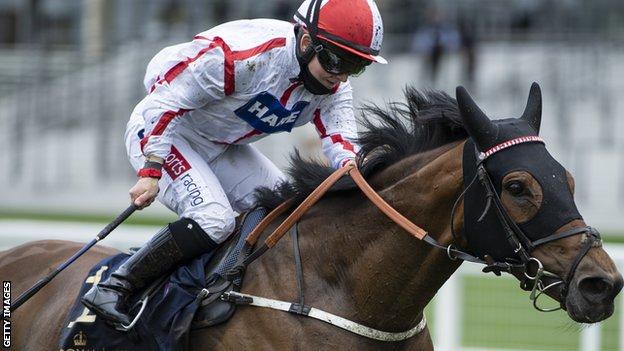 Hollie Doyle claimed her first Royal Ascot win on 33-1 shot Scarlet Dragon after Golden Horde held off Kimari to win the Commonwealth Cup on day four.
Doyle rode Scarlet Dragon to victory in the Duke of Edinburgh Stakes to join Gay Kellaway and Hayley Turner on the Ascot roll of honour.
"This means a huge amount and it gets a monkey off my back," she said.
"You arrive every year with high hopes, but it's very hard to get winners. This is the icing on the cake."
Doyle already holds the record for number of winners ridden in a calendar year by a woman after her 116 victories in 2019.
And it was a happy reunion with the Alan King-trained Scarlet Dragon, who she rode to victory as an apprentice for her first big handicap win at Newmarket in 2016.
"I can't really put it into words and there are so many people to thank. It's just amazing," added the 23-year-old.
"Hayley has been there and done it and ridden Group One winners. I can hardly imagine doing that myself, but I know it's possible one day.
"My aim is to improve year on year ability-wise so I've been lucky to get the opportunities, but I've still got a long way to go."
There was also a landmark achievement for Frankie Dettori as he claimed his 70th Royal Ascot victory when Fanny Logan came from last to first for a decisive victory in the Hardwicke Stakes.
"It's great to get 70 winners – now I want 71!" he said afterwards.
However, Dettori was denied another winner in the day's feature race when he and the American-trained Kimari failed to overhaul Golden Horde, ridden by Adam Kirby.
The 5-1 winner, trained by Clive Cox, had enjoyed a successful 2019 campaign as a two-year-old and showed he had progressed well.
The Commonwealth Cup victory was an eighth Royal Ascot success for Cox, with Kirby having ridden six of those winners.
Cox said: "I'm very proud of him. He's a lovely, big, strong horse.
"To win a Group One first time out with any horse is very special. A Commonwealth Cup means an awful lot, so hopefully he can carry it on.
"He's really grown into his frame now. Last year he was very good and he's improved again."